<! ---- modification jim 13:12 ----->
About this website
An HCL Notes/Domino ® development for ourselves.
This website was built using a design template which was modified by an associate of ours, Clive Walker of CVW Design in Horsham who are designers and developers of standard HTML/CSS websites.
Clive took the original design, modified it to our requirements and then handed it over in the form of a couple of example pages, a CSS file and some example images.
We have then cut up the website HTML into various segments and created a Notes & Web side application using HCL Notes/Domino ®
It is a bit like a Wordpress site in that all the page creation and editing is done via the browser but it is massively more secure and has the added benefit of having a client side application which makes quick edits really simple.
This is what the online editor looks like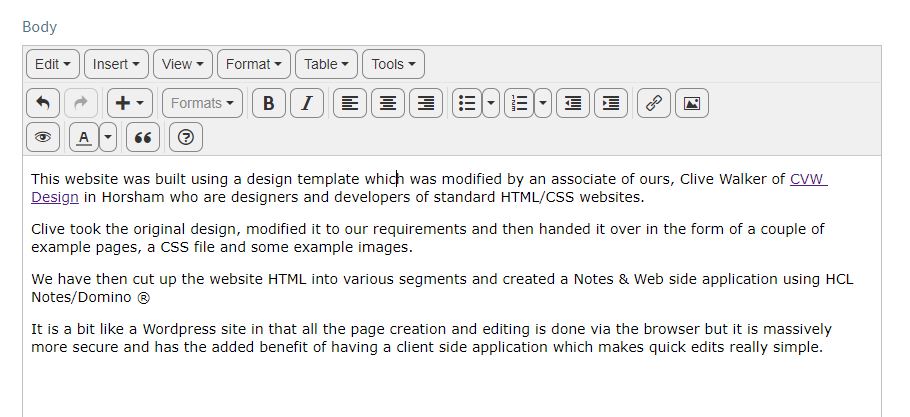 and this is what the client side editor looks like

<! ----- featured content ---->
.UK Domain Names
Our pricing structure for .UK domain names is simple
| Description | Price |
| --- | --- |
| 2 year registration | £22.50 |
| 10 year registration | £100.00 |
All prices are plus VAT
HCL Notes/Domino® Development
With over 20 years experience we specialise in HCL Notes/Domino ® development whether it is client based, web based or XPages.
<! ----- spotlight content ---->